The Best Vended Football Shirt In The World… Probably!!
3 June 2016
I spotted some clever marketing from sponsors Carlsberg this week in the run up to the start of Euro2016.
A snack machine more used to vending cans of drink, packets of crisps and bars of confectionary was modified to hold replicas of the football shirts worn by the victorious England World Cup team 50 years ago next month. Rather than inserting money, football fans in Sheldon Square, London were invited to strip off whatever shirt or top they were wearing and push it through a modified slot on the front of the vending machine. In return a bright red iconic "three lions" football shirt was vended to some clearly ecstatic England supporters.
With only 300 hundred available on the day an enthusiastic queue soon formed for the "shirt for a shirt" promotion and I guess quite a few would end up disappointed. As a modification of the classic Ken Wolstenholme 1966 commentary "Some supporters are at the vending machine…………they think it's all over…………it is now !!!
KSV Vending doesn't do football shirts, but they "probably" have a vending machine to suit your needs.
Written by: Colin from KSV.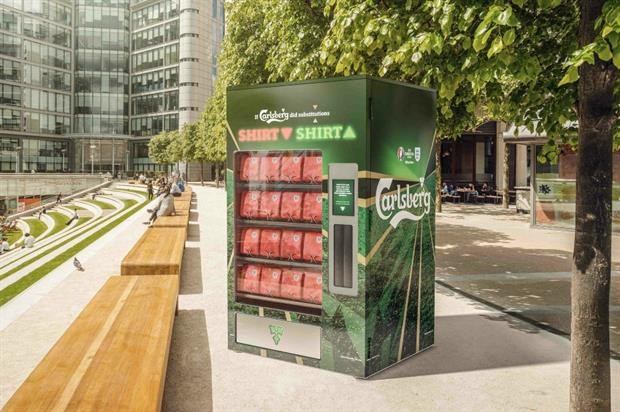 © 1985 - 2023 KSV Vending | VAT registration number: 449 6400 34