New Limited Edition Galaxy Caramel for Flavia drinks machines.
18 September 2018
Mars Drinks UK have announced a limited edition run of Flavia Galaxy Caramel for use with the range of Flavia hot drinks machines.
This new flavour of Galaxy hot chocolate is due for launch week commencing 19th November 2018, and is being produced as a seasonal special in limited volume.
Galaxy Caramel offers a silky smooth caramel drink, made with real Galaxy chocolate. A seasonal winter indulgence with a hint of caramel, for those looking for something new and different.
With more good news! Galaxy Caramel will be offered at the same price as standard Galaxy hot chocolate, with the same case size of 72 fresh-packs.
Look out for more launch information in due course and don't miss out, because when it's gone it's gone!
Written by: The KSV Customer Service Team.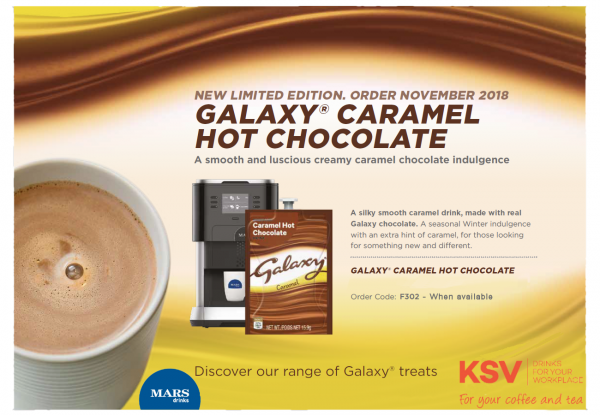 © 1985 - 2023 KSV Vending | VAT registration number: 449 6400 34