New Launch Quattro Classic and Quattro Media Cappuccino Coffee Machines.
2 November 2023
Introducing the New Quattro Classic and Media models. Set to become the benchmark mid-sized one touch cappuccino machines. Café style drinks in seconds including decaf options, from cappuccino and latte, to mocha, hot chocolate and more…
Fast and efficient, with drinks dispensed in seconds at the push of a button. The ideal system for cafes, bars, restaurants, hotels and retail outlets.
The Quattro machine was designed for medium usage sites, where a little more capacity is required. Still compact at just 29cm wide, with either a large LED backlit panel on the Classic model. Or upgrade to the Quattro Media model with its HD media screen for added point of sale presence. Both models can be connected to a mains water supply, alternatively they can be ordered with an option water canister and pump.
Both Classic and Media versions have four integral product canisters for coffee, decaf coffee, milk and chocolate. With Go-Large, Go-Strong & Go-Decaf options, offering the following drinks menu: Café Latte – Cappuccino – Chocolate – Chocomilk – Coffee Black – Coffee White – Espresso – Mocha – Hot Water
Available to rent or purchase from KSV from as little as £1.80 per day. Please contact one of our helpful advisors for more information.
Written by: Andy from KSV.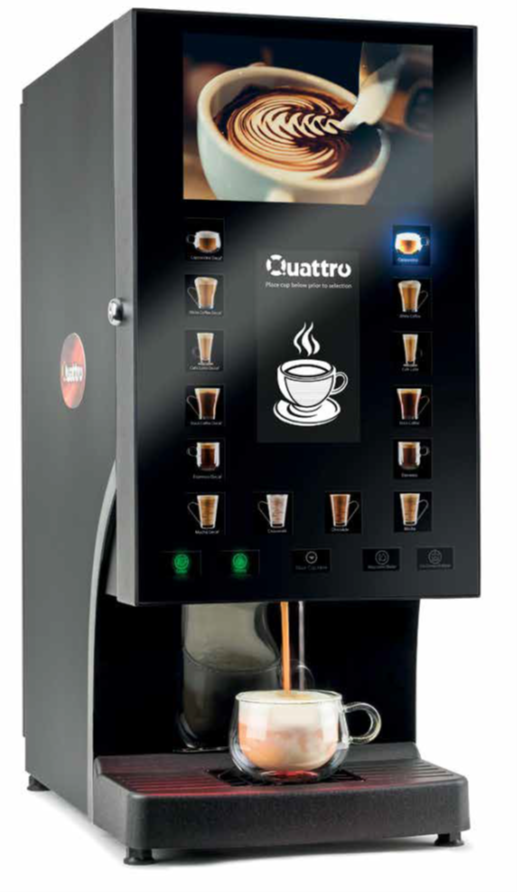 © 1985 - 2023 KSV Vending | VAT registration number: 449 6400 34