Flavia Irish Breakfast Strong Tea with a New Blue pack design.
31 March 2023
To help distinguish between English Breakfast Tea and Irish Breakfast Strong. Lavazza Professional have revised the colour of the sachets for Irish Breakfast Strong, which will now have a distinctive bright blue background.
The same great tasting Irish Breakfast tea, just with a new pack design.
New Blue packs are being phased in and will shortly replace the red ones still in the supply chain.
Should you require any further information, please do not hesitate to contact our Customer Service Team on 01825 732772.
Written by: Colin from KSV.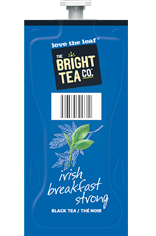 © 1985 - 2023 KSV Vending | VAT registration number: 449 6400 34