Eurostat Figures Surprised me on UK Coffee Production.
11 October 2019
Eurostat have produced data on coffee roasting outputs across the EU. Before studying the figures, I would have confidently predicted Italy to be the biggest producer or possibly France. By a comfortable margin the Germans hold the crown for 2018 having processed over 550,000 tonnes of roasted coffee. Yes France, Italy and Spain all measured output in the hundreds of thousands of tonnes, but the real surprise was the UK. We came in well below small population countries like Finland and Belgium with even Poland roasting more than twice the UK total of 30,000 tonnes.
When you look at the rapid growth in coffee consumption here over the last decade, and recognising that coffee can be freely traded across the EU a UK roasting market share of less than 2% was a surprise, as was an EU 3% reduction overall compared with 10 years ago.
Written by:  Colin from KSV.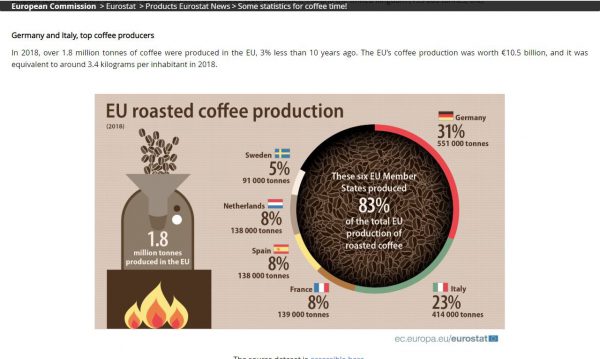 © 1985 - 2023 KSV Vending | VAT registration number: 449 6400 34